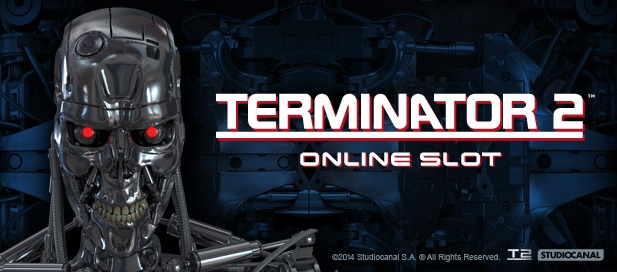 Terminator 2: Bring out the big guns!
Slot reel gaming is going into a whole new level with Microgaming tying up with the wildly popular Academy award winning terminator series to bring out to fans, the 'Terminator 2: Judgment day' reel game. With 243 ways to win in the 5reel slot game in base game functionality, and an exciting, spooky look with T-800 vision feature, fans will be howling for more. The game also features exciting video clips that relive the best moments in the film as the player is taken deeper into the thick of the action. Get ready to get your guns blazing as you go into the world of T-800 with the vision feature making the player the terminator.
If you get in the bonus free spins functionality, you will find that you now have a total of 1024 ways to win, the excitement is now amped up as T-1000, the liquid killing machine appears to morph into any character in the reel giving you bigger wins than ever. The T-800 vision feature in the base game also offers some mystery wins, and cash prizes are awaiting those who unlock this in the reel game. While in this vision feature, a single scatter can turn things to a higher action packed set of free spins, now isn't that thrilling?
If you cannot wait, then gear up to try out this futuristic game that pays homage to the award winning and wildly popular series, this June. Players will be glued to the screen as they see favorite characters from the movie come alive in the slot game animation and interactive sounds and graphics. Sarah Connor, John Connor, T-800, and T-1000 are all part of this thrilling reel game and things are going to be phenomenal as the excitement of the age old battles take over.