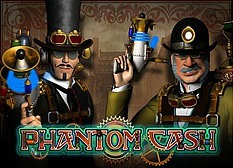 Online Casinos are always up to date – Best Slots for the Halloween Season!
Phantom Cash and The Twisted Circus
Phantom Cash
Both fun and easy, phantom cash is a great video slot game for anyone to play. You will get 25 lines that will provide you with cash rewards. It follows a theme which is not used a lot, steam punk. With this theme, you are getting a very different experience. The graphics are bright, and the game is fun, especially when you are trying to get the ghosts during the times the reel is spinning.
There are two wild symbols in the game which are its best highlights. These symbols only appear on the first and fifth reel. When the symbols appear at the same time of a winning combination you receive double the payout. The Ghost Zap bonus round will also give you some extra rewards with its free spins. These extra features are different, but they are easy to pick up, which makes the game fun and simple.
This game is not only unique, but it also provides high payouts. The features in Phantom Cash help turn the game into something that you will want to play again and again. The theme gives you a little something different in turns of visuals and gameplay. Try it now!
Twisted Circus
Twisted circus is really out of the ordinary. It is a game that turns the circus into a very dark and creepy place. It definitely has a unique theme with the evil circus approach, but it does make the game very different from the usual video slot games out there. You definitely won't see anything Egyptian in this game. Twisted Circus has 5 reels and 243 ways to win. The game uses circus characters, such as the strong man, ringmaster, bearded lady, etc.
The graphics are truly amazing and it makes the game great. They are depicted well, and the game is a joy to watch. It is several special features, which will increase your chances of winning. There are two different wild symbols, free spins to obtain, and even multipliers. There is even a bonus feature that you can use in the game.
You can bet anything between 0.01 and 0.30 while you play, and the bonus feature is on a second screen for you to gain more winnings. Try it now!
Conclusion
It is rare to find games that are as different as Twisted Circus and Phantom Cash. The steam punk theme and dark circus theme are hard to compare to each other or even any other type of video slots game. To understand how these two games are you have to play them both for yourself. If you have a love of a dark and weird circus then you should pick up Twisted Circus, but if you enjoy things on the ghost and ghoul side, you should probably check out Phantom Cash.
It's really hard to suggest one over the other. Even if you aren't sure about the game's theme you should really give them both a try, at the end of the day you are guaranteed to have a new experience in slots and enjoy a game that gives you a pretty good chance of winning.