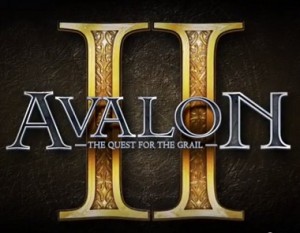 Avalon II: A Trip Back to the world of kingdoms, knights and enchanted forests
Years back, Microgaming developed an online slot game that got medieval fans moving – the Avalon.  Now in 2014, the journey back to the world of kingdom, knights and enchanted forest is featured in the latest offering of Microgaming – presenting the Avalon II: The Quest for the Holy Grail!
This medieval-themed slot game is highly improved as it is designed with 5-reels and 243 payways!  The game is a whole new expedition accompanied by Guinevere, Merlin, Morgan and King Arthur.  The players revel in eight bonus rounds of captivating gameplay.  Triumph in every defeat will be rewarded handsomely with maximum jackpot of 2,400,000 coins.  Gold coins chink is music to the ears of the players at every stage of the quest.
Avalon II: The Quest for the Holy Grail journey starts when Merlin appears to conjure prizes and mystery multipliers at any time.  A Trail Map is provided to the players to explore on.  Each stop is a bonus round to explore.  Spin the Dice and reforge Excalibur in the Lake of Legends, and in Misty Vale, the player gets to choose extra Wild to bag more wins!
The highlight of the game is the Grail bonus round gives the players a chance to reforge Excalibur, spin the Wheel of Fortune and have a chance to recover the Grail. Hold your horses before claiming the Holy Grail, a Black Knight should be defeated first and prepare in battles in the featured games.  Getting three or more Grail chalice symbols on the reels leads the player to the map of Camelot – the portal to the various bonus rounds.  With these featured games, players are able to win up to 20 free games.  It includes the Hall of Shadows, Morgan's Keep, Forest Falls, Mystery Vale, Lake of the Legend, Dusky Morse, Isle of Avalon, and Whispering Woods.  Players can take advantage of these featured games to conquest riches.  Hefty rewards in exchange are worth the risk in every game.
Think you can emerge victorious?  Watch out for the Avalon II: The Quest for the Holy Grail brought to you by Microgaming!